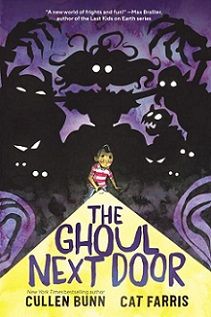 Title: The Ghoul Next Door (GN)
Publisher: Harper Alley
Written by: Cullen Bunn
Illustrated by: Cat Ferris
Price: $ 12.99 US
Rating: 4 out of 5 stars
Website: www.harperalley.com
Comments: Grey and his friend are walking to school. Which leads them through a graveyard. Grey finds something of interest there or it finds his history project. Now things are going ahead in Grey's life and now he has the supernatural entering it. Grey and his friend Marshal do try to get rid of a clingy graveyard creature.
Lavinia is a cool creepy ghoul girl. The art style is nicely presented with the story for an all-ages audience.
Now Grey and Marshal knowing ghouls exist have created problems and Marshal has found out what those problems are. Grey and Livinia descend into the Necropolis. Necropolis is a creepy city underground where the ghouls live. Down below not only ghouls are there but other supernatural beings as well. Sally-Bea is a powerful creature from down below.
There ensues a fight and inhuman and ghouls vs ghost well thinking does beat frightening.
It is too bad ghouls and humans can not coexist. Humans are so afraid of things they do not fully understand and or that go bump in the night.
This is a great story with great art that is perfect for any younger reader and all ages. A younger reader will thrill to the adventure and be mildly afraid of the monsters in these pages. Also, you will find out not all monsters are really monsters and that what is on the inside counts for more than on the inside. Ghouls do Rule here!
About Author