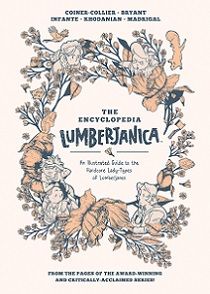 Title: The Encyclopedia Lumberjanica: An Illustrated Guide to the World of Lumberjanes (Digest)
Publisher: BOOM! Box
Written by: Susan Coiner-Collier
Illustrated by: Kanesha C. Bryant, Kaiti Infante, Alexia Khodanian, Julia Madrigal
Cover by: Kat Leyh & Chelsea Roberts
Spot Illustrations by: Brooklyn Allen, Dozerdraws, Kat Leyh, Ayme Sotuyo
Created by: Shannon Watters, Grace Ellis, Noelle Stevenson & Brooklyn Allen
Price: $ 9.99 US
Rating: 4 out of 5 stars
Website: www.boom-studios.com
Comments: Here we learn about important trailblazing women who changed the world with their actions.
Juliette Gordon Low is a woman who contributed so much. She worked so hard to make things better for young lady types.
Octavia E. Butler is a woman with imagination. She pursues her career by whatever means presents itself. She is a driven woman who does succeed.
Sarah Robles pursued her dream and faced many hardships in doing so. She worked hard and suffered to achieve her goals and she did.
Nakano Takeko was a female Samurai Warrior and her along with other women were very brave fighting to protect their families and country. She was highly skilled in combat.
Bell Hooks is a writer and teacher of feminist attitudes. She did accomplish a lot and affected many.
Ching Shih was a pirate. She was very successful at what she did. She knew how to use a man to get what she wanted.
Sarah McBride this transgender woman has done so much to help those like her. She stands up not afraid to let all around her know who she is and that there is nothing wrong with that.
Mary Anning by finding fossils contributed to the knowledge we have of ancient creatures and the knowledge we have of our world.
Sister Rosetta Tharpe used gospel singing and music to reach out and touch others.
Grace Hopper was instrumental in creating COBOL. She joined the Navy and became a Rear Admiral. She lived a long life and accomplished a lot during it.
Ada Lovelace was a woman ahead of her time. She saw what computers would be capable of doing in the future.
Krystyna Chojnowska-Liskiewicz is the first woman to sail around the world by herself. She accomplished this amazing feat on her own.
Anne Bancroft was an amazingly talented actress. She made her success in a job she enjoyed.
Jane Goodall, she studied chimpanzees and did a lot more. She disproved some theories about chimpanzees.
Sybil Ludington, she repeated what Paul Revere did only two years later.
The art that accompanies these stories is done in a prose style and it shows the Lumberjanes paying homage to all these wonderful women who helped pave the way for females to achieve the most they can out of life.
These women listed here are perfect role models for young girls and anyone else. These women helped make society what it is today.
About Author