The Devil's Well, full to the top brick with bloodcurdling chills, out this January
The Devil's Well | Trailer:
This January, Hell is just below the surface.
Get your first big scare of the New Year with Kurtis Spieler's spine-chilling The Devil's Well, on DVD 1/23 from Wild Eye Releasing.
Karla Marks mysteriously vanishes while conducting a paranormal investigation with her husband into the Devil's Well, an underground location reported to be a gateway straight into hell, and the site of an ongoing strange phenomenon. A year after her disappearance, a group of investigators go back to uncover the truth about Karla and are faced with evil forces greater than they ever imagined.
Winner of the Gold Award at the Spotlight Horror Film Awards, and featuring a superb line-up including Bryan Manley Davis (Sheep Skin), Chris Viemeister (Bridge and Tunnel), David Alexander (Thelema the Equinox Diaries), Kristen Seavey ("Nightwing: Escalation"), and Anne-Marie Mueschke ("Siberia"), The Devil's Well is full to the top brick with bloodcurdling chills. Look for it 1/23 on DVD.
Director: Kurtis Spieler
Writer: Kurtis Spieler
Cast:
Bryan Manley Davis  … Bryan Marks
Chris Viemeister  … Lucas Baker
David Alexander … Kris Manners
Kristen Seavey  … Riley Harper
Jon Gregory  … Dennis Howard
Lauren Sowa … Lynn Baker
Kurtis Spieler … Kurt Schafer
Anne-Marie Mueschke  … Karla Marks
Robert Riggs … John Livingston / Father
Lisa Meckes  … Nancy Livingston / Mother
Jes Almeida … Sarah Reynolds / Friend
Rebecca Behrens  … Stacey Livingston / Cousin
Nancy Marlowe Gordon  … Marlene Francis / Historian
Mark Resnik  … Peter Gram / Retired Police Officer
Tony Del Bono  … Detective Andrew Miller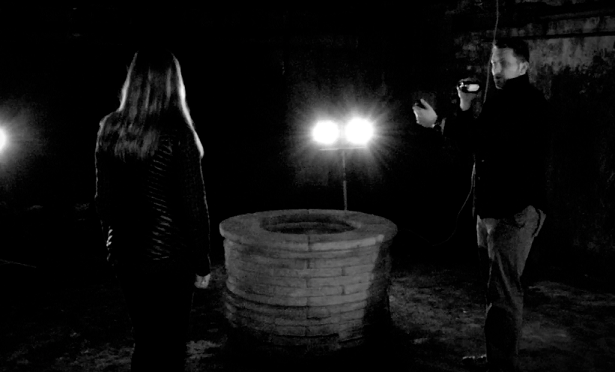 Trivia:
The original title of the movie was "The Unexplained Disappearance of Karle Marks". The title was later changed to the "The Devil's Well" after the movie was picked up for distribution.

The character of Kurt Schafer can be seen wearing a shirt with the name/logo "The Dick Punchers". This is a reference to Kurtis Spieler's first feature "Sheep Skin", in which the main characters are in a punk band called "The Dick Punchers".
Official Site:
Run Time: 1 hr, 27 min
Rating: 2 out of 5 stars
Comments: Bryan and Karla Marks paranormal investigators travel to the Devil's Well.
Karla has disappeared. The film is done by interviewing the family of Karla and her friends. This is a found footage flick as we are shown footage from Karla's camera.
The interviews go on and on. They do indicate that something supernatural may have occurred.
One year later Bryan gets the group known as S.I.G.N.S. – Supernatural Investigators of the Greater Northeast to go back to the Devil's Well.
This movie does move along very slowly. The team does explore a building and in it is a well. The place is creepy and they are there at night. The movie picks up and grabs your attention as it nears the end. The action and the killing starts. What is it for though?
The film will have you briefly thinking could this be real but only briefly.
About Author
Richard Vasseur is a Canadian who has had a love of comic books his entire life. I started out as just a fan reading comics every chance I had. This evolved into writing reviews for a small newsletter which evolved into having my own column at Jazma Online and doing interviews. I also worked briefly as a columnist at Comic's Buyers Guide. Everyday I am involved with doing something comic book related and I love the hobby.