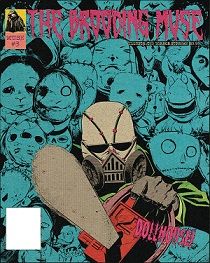 Title: The Brooding Muse Magazine # 3
Publisher: Brooding Muse
Writers: Patrick James, Jennifer Benzell, Maximilian Brody
Artist Names: Steve Bentley, Thor, Matija Obrovac
Cover Artists: Hugh Vogt
Price: $ 5.95 US
Rating: 2 out of 5 stars
Website: broodingmuse.com/
Comments: "Kayla and the Castle Keep" Part Three. The monsters are attacking in force. And the rats seem forgotten about. The artwork on the monsters does create some terrifying creatures. These things look like they just came from Hell or out of a nightmare.
The lettering is so blurry it makes it almost impossible to read.
Kayla for the most part just stands around doing nothing. She and the others finally get in a tank. Will this protect them?
"The 4080 Must Die" What is the 4080? Is it zombies, monstrous fangs, or a warrior woman? The zombies are illustrated as looking undead and adding a touch of horror to this story. What exactly the story is about is hard to tell. A young woman is in a battle. The action needs to be drawn better to show the action which would help to present the story better. Who is the woman? Why is she fighting? What is the purpose of this story?
"Dollhouse" At the Dollhouse in the Wastelands there are some characters, two cyborgs maybe, and a beautiful woman, plus other creatures. What exactly is going down there is hard to follow the story is very unclear. There is a whole lot of fighting going on and at the last, the surprise guest is a nice vicious one. The art in this black and white story is well done and does bring out the monstrous side of some of these creatures.
About Author