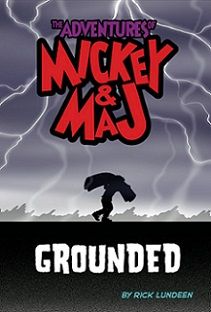 Title: The Adventures of Mickey & Maj Vol 2: Grounded
Publisher: Action Lab Comics
Writer/Illustrator/Cover: Rick Lundeen
Price: $ 2.99 US (digital)
Rating: 4 out of 5 stars
Websites: www.actionlabcomics.com , www.mickeyandmaj.com
Comments: Mickey a kid and Maj a flying carpet with time-traveling abilities start out fast and furious as their adventure is full of danger.
Mickey must protect Maj as he heals. He does find a neat little device to help protect them. Mickey is a determined little boy and he is intelligent in knowing how to fight and survive. Now flying magic carpets are part of the Tapestry an organization that has many flying magic carpets in it.
When Mickey and Maj need help the Tapestry lead by Mr. Brooks is there to help. They stand against the eight balls.
Magic carpets vs flaying eight balls it is a battle to see.  Plus the terrifying dinosaur trying to eat Mickey is a danger worth seeing. This little boy faces a lot of things on his adventure.
This is an all-ages comic which is perfect for young minds to expand their imaginations.
This is one incredible adventure.
About Author