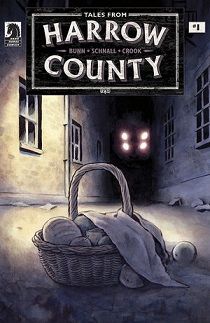 Title: Tales from Harrow County: Lost Ones # 1
Publisher: DarkHorse
Created by: Cullen Bunn & Tyler Crook
Writer: Cullen Bunn
Artist: Emily Schnall
Letterer: Tyler Crook
Cover Artist: Emily Schnall
Variant Cover: Tyler Crook
Price: $ 3.99 US
Rating: 3 out of 5 stars
Website: www.DarkHorse.com
Comments: The art does give the city a run-down feeling. There is something strange going on in this city. The story readily reveals that fact just not what it is right away.
Emmy is a waitress with secrets. She is someone though that you will instantly take a liking to. Gideon a fancy-dressed guy looking all rich greets Emmy. He seems to know about her past.
In this city, there are monsters on the loose. Some evil vile creatures and one most certainly the most furious of them all.
Pearl now meets Emmy. Pearl and Emmy enjoy a girl's day of shopping and beautifying Emmy.
To entirely under this comic you will have had to have read some of the previous ones. Knowing more about the characters shown will help understand what is going on.
Emmy gets to see the Family here and she will have a big decision to make. What will she do? Emmy here is presented as just an ordinary waitress, but you will get the feeling she is so much more as the story goes on.
Emmy does come across as a lovely caring young woman. Yet there is more to her such as her secrets.
About Author