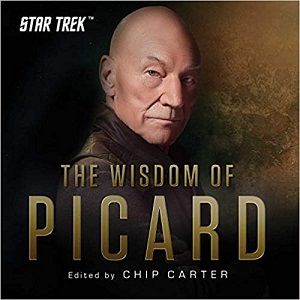 Title: Star Trek: The Wisdom of Picard (HC)
Publisher: Adams Media/Simon and Schuster
Edited by: Chip Carter
Price: $ 15.99 US, $ 21.99 Can
Rating: 4 out of 5 stars
Website: www.simonandschuster.com
Comments: The gorgeously designed cover gives this small hardcover book a classic feel.
Introduction
This sets up the book and gives you an idea of the character of Picard. More diplomat than fighter.
Chapter 1 The Final Frontier: Philosophy and Humanity
The quotes from Picard do at times make no sense, other times they ring so true and others have a nice touch of humor. The quotes at times will include what someone else has said as part of them. Picard does show intelligence and reason in what he says.
Chapter 2 Where No One Has Gone Before: History and Science
The quotes are filled with truth. Lots are about things you can identify with.
Chapter 3 New Life and New Civilizations: Literature and the Arts
The works of Shakespeare are mentioned. The Bard is an inspiration for Picard. He does draw from history.
Chapter 4 Strange New Worlds: Exploration and Adventure
Any problem does have a solution as we see Picard knows and lives by.
Chapter 5 To Boldly Go: Politics, Leadership, and Diplomacy
This chapter focuses on Starfleet.
Picard is a character unlike any other and he has a lot to say. His wisdom is brought out through these notable quotes that will make you think and admire the man he is.
About Author