RICH REVIEWS: Savage Dragon # 249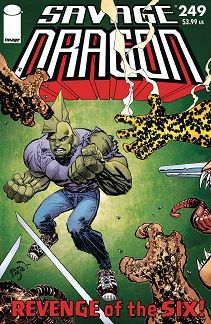 Title: Savage Dragon # 249
Publisher: Image Comics
Writer/Artist/Cover: Erik Larsen
Letters: Ferran Delgado
Colors: Nikos Koutsis
Flats: Mike Toris
Price: $ 3.99 US
Rating: 3 out of 5 stars
Website: www.imagecomics.com
Comments: Malcolm and his friends are all kids. Why? Than it skips to the present. So what was the purpose of showing them as children in the past.
Malcolm is in a brawl in Toronto, Ontario, Canada. The only ones out besides the heroes are a bunch of dumb Americans as the comic puts it. Malcolm and friends are fighting the Vicious Circle. Sickly makes for a good villain as she drains others of their energy. The two heroes with spider like powers actually do shoot webs from their butts. Plus one has her nipples showing so this is a mature comic and there is sexual situations. They are illustrated amazingly in action.
Dart is shown attacking a criminal that is a look alike for the Kingpin.
There are so many super-heroes and super villains in this issue it is hard to keep track of them all. Plus unless you have been reading the series lots of them you will have no idea who they are.
Angel is shown wearing a Canadian styled outfit. Red and white with a big maple leaf on it. She looks gorgeous in it.
"Mighty Man and the Voice from Valhalla" Story by Gary Carlson and Bill Fugate, art by Johnathan Dhenry and colors by Glenn Whitmore. Mighty Man must face a Valkyrie in this all ages tale with classic old style art. This is a un tale involving Norse Mythology
https://www.firstcomicsnews.com/rich-reviews-savage-dragon-249/
https://www.firstcomicsnews.com/wp-content/uploads/2020/05/Rich-Reviews-logo-600x257.png
https://www.firstcomicsnews.com/wp-content/uploads/2020/05/Rich-Reviews-logo-150x64.png
Reviews
Rich Reviews
dragon,reviews,savage
Title: Savage Dragon # 249 Publisher: Image Comics Writer/Artist/Cover: Erik Larsen Letters: Ferran Delgado Colors: Nikos Koutsis Flats: Mike Toris Price: $ 3.99 US Rating: 3 out of 5 stars Website: www.imagecomics.com Comments: Malcolm and his friends are all kids. Why? Than it skips to the present. So what was the purpose of showing them as children in the...
Richard
Vasseur
Richard.Vasseur@firstcomicsnews.com
Author
Richard Vasseur is a Canadian who has had a love of comic books his entire life. I started out as just a fan reading comics every chance I had. This evolved into writing reviews for a small newsletter which evolved into having my own column at Jazma Online and doing interviews. I also worked briefly as a columnist at Comic's Buyers Guide. Everyday I am involved with doing something comic book related and I love the hobby.
First Comics News