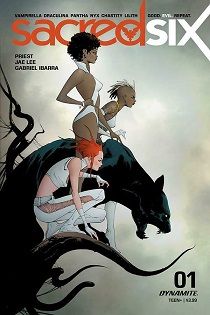 Title: Sacred Six # 1
Publisher: Dynamite
Written by: Christopher Priest
Illustrated by: Jae Lee & Gabriel Ibarra
Colored by: June Chang & Mohan
Letters by: Willie Schubert
Cover by: Jae Lee with June Chang
Variant Covers by: Mark Texeira, Joseph Michael Linsner, Natali Sanders, Jose Ladronn, Lucio Parrillo, Meghan Hetrick, Sun Khamunaki, Will Jack
Price: $ 3.99 US
Rating: 1 out of 5 stars
Website: www.dynamite.com
Comments:  There is a lot going on but no explanation as to how it all fits into the story. Than we get introduced to Pantha briefly way to briefly and next Chastity in Toronto, Ontario, Canada. Both are portrayed in a not very good light. Draculina is shown sitting and doing nothing else accept undressing. The three of them are great characters to have in this type of comic they just need to be shown and used better. Lilith is shown and she is illustrated as a beautiful female. It is the best part of this issue.
All the settings have a supernatural take to them. Vampires and zombies and more roam the land.  The art is dark yet not in a frightening way. The females are not shown off at all. Pantha is in her cat form and she just looks like a big cat nothing scary about her. The vampires we barely see their fangs.
Yes this issue introduces a lot of characters, to many so it is hard to keep track of them all. The story and art both needed to be more focused.
About Author