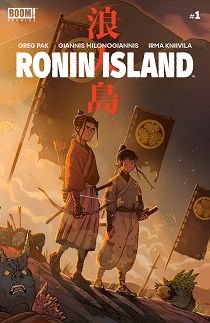 Title: Ronin Island # 1
Publisher: BOOM! Studios
Written by: Greg Pak
Illustrated by: Giannis Milonogiannis
Colored by: Irma Kniivila
Lettered by: Simon Bowland
Cover by: Giannis Milonogiannis with Colors by Msassyk
Variant Covers: Ethan Young, David LaFuente with Colors by German Garcia, Kris Anka
Price: $ 3.99 US
Rating: 4 out of 5 stars
Website: www.boom-studios.com
Comments: Two wannabe Samurai are competing for First in Class. Kenichi and Hana are the top two students. Kenichi believes in the old ways and Hana in the new. To this Island comes General Sato a Samurai with his men and he wants fealty and of course a share of their harvests.
The art looks great in its subtle quite style. It shows the characters with a nice classic look that fits the ancient times of the samurai.
The protection racket when you see why they are offering it is not all that bad. The Byonin appear to be a type of demon that has invaded the land. The Island people are lead by Elder Jin she is a warrior a Ronin. Will she be enough along with the others to defend against this unholy threat.
The Samurai and Ronin aspects of this story make it of interest. Elder Jin is a wonderful character and her second in charge along with the two wannabe Samurai along with General Sato is going to make this one read you do not want to miss.
The charge to action starts here.
About Author