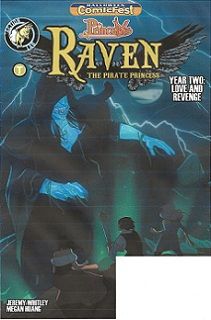 Title: Raven Year 3: Halloween Special
Publisher: Action Lab Comics
Written by: Jeremy Whitley
Art by: Megan Huang
Price: $ 3.99 US
Rating: 2 out of 5 stars
Website: www.actionlabcomics.com
Comments: "Princeless Raven The Pirate Princess Year Two: Love and Revenge" Raven and Ximena are enjoying a nice romantic night. The setting is at night and it is a spooky setting aboard ship. Witches and ghouls are out and on the attack. Raven and some of her crew must fight for their lives.
The setting in at night and the art is drawn so dark it is hard to fully see the characters.
The three girlfriends are given an offer that they do not take at least not then. Love is more powerful than anything else.
"Toyetica" Story and art by Marty Legrow. The art does show off the doll characters as cute.
The story has three dolls getting ready to look for a time capsule. This short preview is one that just starts to pique your interest but does not get into the story enough.
"Princeless Book 7: Find Yourself" Story by Jeremy Whitley, pencils by Emily Martin, inks by Ainhoa Aramayo, colors & letters by Brett Grunig.
Princess Adrienne and her dragon Sparky have a big fight. Also, her traveling companions are off on their own little adventure.
These previews are too short and do not get into the characters and stores enough.
About Author