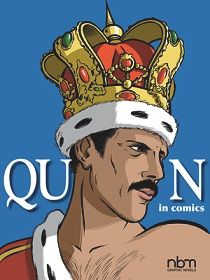 Title: Queen in Comics (HC)
Publisher: NBM
Story: Emmanuel Marie
Article text: Sophie Bitman
Cover: Bast
Endsheets: Enzo Gosselin
Artists: Riccardo Randazzo, Celine Olive, Antonio Campofredano, Samuel Wambre, Julien Hugonnard-Bert, Lauriane Rerolle, Jean-Jacques Dzialowski, Alex-Ime. Francesco Colafella, Samuel Figuiere, Antoine Pedron, Arnaud Pedron, Amaud Jouffroy, Toni Cittadini, Carmelo Zagaria, Francois Foyard, Paolo Loreto, Dario Formisani
Colors: Luigi Zitelli, Celine Olive, Nicolo Laparini, Samuel Wambre, Lauriane Rerolle, Alex-Ime, Antoine Pedron, Arnaud Jouffroy, Camelo Zagaria, Francois Fayard, Luigi Zetelli, Paolo Loreto
Translation: Christopher Pope
Letters: Ortho
Price: $ 27.99 US, $ 39.00  Can
Rating: 4 out of 5 stars
Website: www.nbmpub.com
Comments: "Farrokh's Childhood" Farrokh gets the nickname Freddie at school.
Here you get to learn about Freddie Mercury's childhood and his upbringing. We see the singers who influenced him and his forming his first band. He knew from a young age he wanted to be a musician.
"Youth In London" Freddie is trying to get a band together with himself in it as the lead singer and he does go through some bands. He has his unique style.
"Everything Starts With A Smile"… Here we see Freddie join the band Smile as its new singer-pianist.
"Birth Of An Esthetic" Here John joins the group. He also comes up with the name Queen for the group. The story is told with art which is easy to follow.
"First Album, Little Success" The band Queen just keeps going and they make a second album. These four will not stop till they are famous.
"We Want A Show!" Queen does provide a show while on tour and they do a lot of shows. Then they do another album so they are really becoming famous.
"Queen Takes Off" Yes Queen's talent has them becoming even more of a success. Changes made to their management seem to have improved them.
"6 Minutes Is Too Long!" Bohemian Rhapsody becomes a big hit becathe bandband members were willing to take a chance.
"Roger Taylor Goes Solo" The members have tried going solo but they found they always achieve the most success together.
"Legendary Hits" Queen did come up with two hits that get the audience involved.
The comic book style pages followed by pose style pages that include relifefes photos and f well well.
"Get On Your Bike!" The group does come up with some innovative songsvideosdeoes to go with them. Queen does push it.
"But Who Was Freddie Mercury Really?" Freddie was in love with Mary but his true nature does come outhas  and also some bad habits. Heo his a famous friend.
"Disco Never Dies!" Freddie hangs out with Michael and they do work together. Things though on a personal level have them not meshing well together.
"Under Pressure" David Bowie and Freddie Mercury along with the rest of Queen and the two do have some creative differences yet it all works out.
"Search For Freedom" Well the music group has been having problems but they do stay together and produce a great album after the last one failed.
"The Work's Rock And Controversy" In Africa Queen due to Freddie had to cancel out on somtours its tours. This led to problems.
"History-Making Concerts" A fan of Queen narrates his experience with them. They were loved.
"A Final Album Amidst Suffering" Freddie may be suffering yet he pushes on. He creates another album with Queen. He just loves what he does.
"Was It All Worth It?", yes, yes, it certainly was; Freddie lived a great life and he gave so much. And so many loved him.
"The Show Must Go On!" Queen and Freddie Mercury will never be forgotten. Freddie is a star that shone brightly and still does in all the hearts of his many fans and friends.
About Author