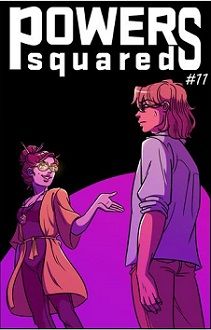 Title: Powers Squared # 11
Publisher: Powers Squared
Created by: David Hankins, Paul Hankins, Trevor Hankins
Written by: David Hankins and Paul Hankins
Edited by: Paul Hankins
Pencil, Inks, and Cover by: Rachel Wells
Colors by: Nina Gaillard
Lettering by: Trevor Hankins
Price: $ 1.99 US
Rating: 4 out of 5 stars
Website: www.powerssquaredcomicbook.com
Comments: The twins do have romantic lives. Both have lovely girlfriends. They are teenage boys so of course, it is only natural to think about girls and girls think about them.
Marty actually is having girl problems with Mocha being jealous of Quincy. Marty does not choose between them but makes it clear he wants to pursue the one over the other.
Eli and Jenny are into each other as she is always all over him.
Marty and Eli are having a difference of opinion over whether they should accept money for doing heroic deeds.
Marty and Eli's science class gets a little exciting. The presentation of this scene needed to be done in a more exciting manner. It has some exciting yet not enough to get you feeling the danger.
The art does have a nice style to it. The twins do look good.
This is a fun read about two twins coming of age and having powers.
About Author