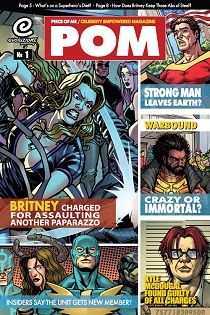 Title: POM # 1
Publisher: Evoluzione Publishing
POM Created by: Marvcel Dupree and Joel Cotejar
Story by: Marcel Dupree
Art by: Joel Cotejar
Colors by: Franco Reisco and Claudio Lucania
Letters by: Brant Fowler
Edits by: Richard Still
The Unit:
Story by: Marcel Dupree and Guido Martinez
Art by: Scott Jones, aka SHADE
Letters by: Brant Fowler
The Unit Created by: Marcel Dupree and Scott Jones
Price: $ 4.99 US
Rating: 3 out of 5 stars
Websites: www.facebook.com/evoluzionepublishing.com , www.indyplanet.us/brands/evoluzione-publishing.com 
Comments: McDougall we see is being escorted to the city. Then we switch to Britney Armstrong she is a slut and also a superpowered being.
Then we switch back to McDougall and three armored people come to rescue him. They are armed and dangerous yet they encounter someone much more dangerous. As the story moves along details are filled in. There is a ton of action as we see lots of characters which we do not a little about just not a lot. Britney makes the scene and leaves the scene as we see she is one uncaring superpowered woman. The characters are interesting and the Ronin type guy in armor leaves you wondering who he is and has you wanting more. In this anthology, you will have to come back next issue to find out more.
"The Unit" Gaia, Bill Bigsby – Armageddon, Carl Moss – Ultimate, Plato – The Alchemist, and Joel Scott – Genesis is the Unit. The Unit is in battle against another alchemist and his horde of zombies.
Ms. Turner is the newest member of the Unit. She is Chloe Turner – Shakti and she jumps into the fray. The Unit is a hard-hitting team. The story is short so you only get to learn the basics about the Unit and its members. It does grab your attention enough to get you wanting more. This story is continued in the next issue.
About Author