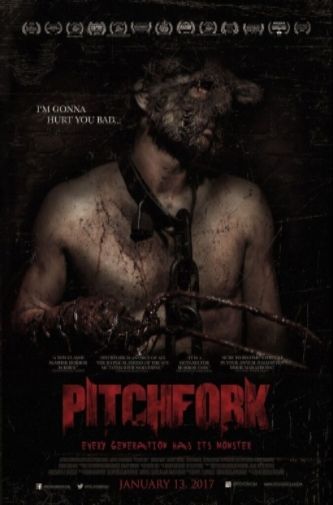 A new horror icon is born in Pitchfork, in theaters this January!
Glenn Douglas Packard's highly anticipated horror spectacle PITCHFORK premieres in theaters and On Demand January 13 from Uncork'd Entertainment.
Having recently shared a life-changing secret with his family, Hunter recruits his friends to come with him from New York to the farm where he grew up as he faces his parents for the first time. As the college students enjoy the fresh air of Michigan farm country, an older, more dangerous secret slowly emerges. While Hunter navigates a new place within his conservative family, a vicious creature from their past descends on the farm, putting the unsuspecting city kids in mortal danger.
Produced by Packard, Darryl F. Gariglio and Noreen Marriott, with associate producer Shaun Cairo, and boasting a screenplay by Gariglio and Packard, PITCHFORK introduces audiences to a horrifying new movie monster.
The ensemble cast includes Daniel Wilkinson, in the title role, with Lindsey Nicole, Brian Raetz, Ryan Moore, Celina Beach, Keith Webb, Sheila Leason, Nicole Dambro, Vibhu Raghave, Rachel Carter, Andrew Dawe-Collins, Carol Ludwick, Derek Reynolds, Addisyn Wallace and Anisbel Lopez.
NEW TRAILER

Directed by: Glenn Douglas Packard
Writing Credits:
Darryl F. Gariglio … (writer)
Glenn Douglas Packard … (creator)
Glenn Douglas Packard … (writer)
Cast:
Daniel Wilkinson … Ben Holister Jr. / Pitchfork
Brian Raetz … Hunter Killian
Lindsey Nicole … Clare
Ryan Moore … Matt
Celina Beach … Lenox
Nicole Dambro … Flo
Keith Webb … Rocky
Sheila Leason … Janelle
Vibhu Raghave … Gordon
Rachel Carter … Judy Holister / Ma
Andrew Dawe-Collins … Ben Holister Sr. / Pa
Derek Reynolds … Wayne Killian
Carol Ludwick … Ruth Killian
Addisyn Wallace … Jenny Killian
Anisbel Lopez … Trisha
Produced by:
Shaun Cairo … associate producer
Darryl F. Gariglio … executive producer
Noreen Marriott … line producer
Glenn Douglas Packard … producer
Run Time: 1 hour, 34 min
Rating: 4 out of 5 stars
Comments: The music does set the atmosphere, it is creepy.
The first person we see is one gorgeous woman. She makes the classic horror movie mistake. She goes into a building alone. This girl was beautiful.
A group of friends come to see the one guys father who lives on a farm. The countryside is beautiful.
The gang has fun setting up for a barn dance. The girls look awesome. The dancing is so much fun to watch.
Than that night the terror rises. A man with a pitchfork for a hand starts stalking the group of friends. They fall one by one to his insane murderous instincts.
The killer himself does not seem all that threatening or have much emotion at least at first. As it goes on he develops a rage. He does have a sick twisted side. He just becomes more sick as the movie goes on.
A new twist is added as well. You will not expect it. Than there is lots of blood and more sick action. Than we get another twist. This one will definitely catch you by surprise.
Pitchfork has some nice sick moments and surprise twists that will keep you on the edge of your seat.
About Author