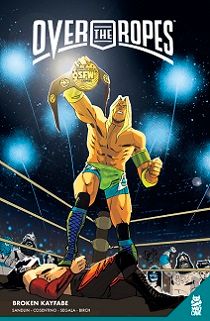 Title: Over the Ropes Vol. 2 (TPB)
Publisher: Mad Cave Studios
Writer: Jay Sandlin
Artist: Antonello Cosentino
Colorist: Francesco Segala
Letterer: Justin Birch
Price: $ 17.99 US
Rating: 4 out of 5 stars
Website: madcavestudios.com
Comments: Barbwire Brody Jackson and Blue Bomba are the Barbwire Bombs. These two put on a good show in the ring. The action is short but hard-hitting. These wrestlers are professionals and that comes through here.
The Phoenix and Billy Radisson have a rivalry going. This is a short match as well. The comic does have a lot of drama going on.
Scorch is the sidekick for Phoenix. She is a beauty who is still raw and needs more training.
The drama does amp up between Phoenix and Scorch. What does she want out of life? Phoenix goes for what he wants and Scorch well as her plans for her future. Will these two be able to work it out and stay together?
Buddy Peacock and his posse explode on the scene. Phoenix now has competition in the ring as does his posse. It's Peacock vs Phoenix one bird against another. This issue sets up for their coming revelry.
More in-rind action would be great to see and less drama outside.
The art looks great showing off all these wrestlers although at times it is too plain. The story does show us that being a superstar does not mean you are still not just human with human feelings and emotions.
Phoenix does make a great champion.
So the SFW and AWF two different wrestling leagues have started a feud. It will be Phoenix vs Buddy Peacock for the Undisputed World Heavyweight Championship. Also, Scorch and Yuri will face off for the Unified Women's Title. Unified Tag Champs too.
Up first it's Scorch vs Yuri. Yuri is a veteran, while Scorch is thought of as eye candy. Scorch is the underdog yet right from the start it's easy to tell she can not only wrestle but she can fight.
Backstage there is tons of drama going on.
Jason aka Phoenix needs to get his priorities straight.
In the rink, we have an all-out Battle Royal with lots of hard-hitting action. The match ends up with Phoenix facing Buddy Peacock. These two have history and they are preparing for their title vs title Ladder Match. The drama is present even in the ring.
Phoenix and Buddy Peacock do have a huge rivalry going on. These two hate each other as well, especially Phoenix you can feel the hatred radiating off of him.
Every time you read the saying "We Will Rise" you will get chills.
The final sequence here is the big matchup Phoenix vs Buddy Peacock for all the marbles. These two go at it in a hard-hitting no holds barred match.
Things do settle down after the smoke has cleared. We see life is not all wrestling and nothing wrong with it being a part of your life, a big part.
About Author