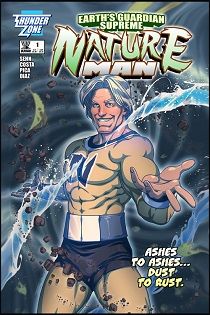 Title: Nature Man # 1
Publisher: Thunder Zone/Argo Comics
Stary: Dan Sehn
Art: Zilson Costa
Colors: Giuseppe Pica
Letters: Luiz Diaz
Cover: Royce "Fooray" Southerland
Variant Covers: Zilson Costa with Colors by Giuseppe Pica, Alexandre Nascimento
Pin-ups: John Jones, Ryan Browne with Colors by Giuseppe Pica
Price: $ 4.99 US
Rating: 4 out of 5 stars
Website: www.argocomics.com
Comments: Nature Man is here and the world has moved on yet he is still a hero. He has the powers of seven powerful Gods and Goddesses.
Now David aka Nature Man is befriended by Hector a good citizen who likes to help those in need. Nature Man has just returned and has nothing but his name and costume.
Nature Man almost right away gets the chance to show he is a hero as he leaps into action against a big robot.
The art is simply stunning. It is so easy to tell Nature Man is a true hero. The robot from its poses you can see is evil. The backgrounds have just the right amount of detail. The coloring looks amazing with the shading to enhance it.
There is a mystery here. The battle is hard fought as they trade blows. Nature Man steps up and does show everyone he is a hero.
This series is off to a great start. Nature Man will have you answering the call of nature.
About Author