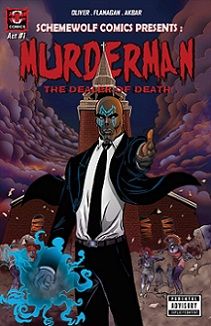 Title: Murderman: The Dealer of Death # 1
Publisher: Schemewolf Comics
Written by: R. Douglas Flanagan & Avery D. Oliver
Art/Cover/Variant Cover by: Rully Akbar
Colorist: Dante Strada
Letterer: Micah Myers
Price: $ 2.99 US
Rating: 3 out of 5 stars
Website: www.schemewolfcomics.com/
Comments: Some really weird stuff starts happening around town and a guy with a big blue M on his face shows up. His name is Ray and he works for the church where they do have some sexy nuns.
This is a mature comic with nudity and sexual situations. Plus drug use. Plus of course violence.
Grace is a prostitute and Cipe is a guy who cares about her. Cipe though comes equipped. He is not your ordinary everyday guy. What he carries gives him an advantage. These two are being chased by a bike gang of males dressing up as females. They are all armed yet they still look like wimps. The pink-wearing green-haired muscle guy is slightly impressive.
Murder Man and Cipe are both characters with potential. It appears to be magical abilities vs science between these two. Their full stories have yet to be told. Knowing more about them and what is going on with their lives, the reasons they are as they are will make you care more about them.
This issue will pique your interest and have you wanting to know more.
About Author