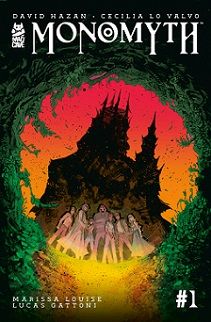 Title: Monomyth # 1
Publisher: Mad Cave Studios
Writer: David Hazan
Artist: Cecilia Lo Valvo
Cororist: Marissa Louise
Letterer: Lucas Gattoni
Cover Artists: Cecilia Lo Valvo, Marissa Louise
Price: $ 3.99 US
Rating: 2 out of 5 stars
Website: madcavestudios.com
Comments: An old wizard is working in his home. Then we jump to the present and keep switching locations as the story attempts to explain what magic is.
The old wizard reaches out across time and finds seven people he brings them to him. There is a mysterious reason behind his actions. He knows what he is doing but they do not.
The art style is indistinct, it does not make the characters stand out as clearly as they could. The backgrounds do look good.
The seven find themselves in this old wizard's castle and they are in a death-threatening situation. These future wizards find they must work together to stay alive. It is sink or swim, literally. The danger they are in does not seem real.
This issue introduces the main players but does not really get into why they were chosen or what the reason for them being chosen is. Plus who is that old wizard? Why is any of this happening?
The magic here is something else. These seven people have been brought together for some unknown reason and their adventure or nightmare has just begun.
About Author