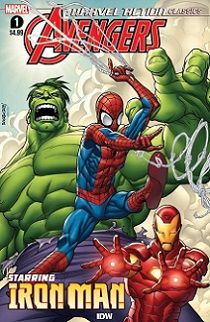 Title: Marvel Action Classics Avengers: Starring Iron Man # 1
Publisher: Marvel/IDW
Writer: Paul Tobin
Pencils: Alvin Lee
Inks: Terry Pallot
Colors: Emily Warren, Val Staples
Lettering: Nate Piekos
Cover by: Roger Cruz/Colors by Guru-eFX
Price: $ 4.99 US
Rating: 4 out of 5 stars
Website: www.marvel.com, www.idwpublishing.com
Comments: "Best of Show" Hercules shows up at the Avengers Mansion and he wants a favor. Spider-Man, Hulk, and Iron Man get to babysit. Two dogs Cerberus and Orthus yes the dogs from Hell. These dogs cause all kinds of problems for our three heroes. They do get things under control and decide to entire the dogs in a dog show.
The art looks fantastic and it is done for an all-ages audience as is the story. The art gives the characters a cartoon style while the story just has fun as the dogs and Avengers hang out. These dogs are fun to play with and Hercules is a fun guy. Iron Man makes for a good chew toy.
"Klaw's Good Ol' Fashioned Country Revival" The Beetle is robbing a bank and finds out that Iron Man, Spider-Man, and the Hulk are there. Did he ever make a mistake.
The three Avengers next go to a live stage performance of a musical band lead by Klaw. Klaw keeps giving concerts and they keep getting bigger and bigger. Has Klaw reformed it looks that way. Iron Man though is sure he has not he is ready to jump on Klaw at any indication of evil. It is fun watching Klaw performing. He is acting just like a regular working guy.
This all-ages comic is a fun read that all will enjoy.
About Author