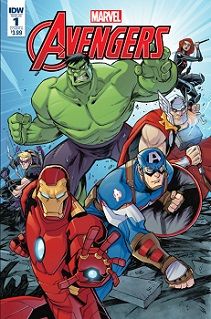 Title: Marvel Action Avengers # 1
Publisher: Marvel/IDW
Written by: Matthew K. Manning
Art by: Jon Sommariva
Colors by: Photobunker
Letters by: Christa Miesner
Cover by: Jon Sommariva
Variant Covers by: Sara Pitre-Durocher, Sophie Campbell, Gabriel Rodriguez/Colors by Nelson Daniel, Alex Milne/Colors by Paris Alleyne, Jarrett Williams/Colors by Tim Shinn
Avengers Created by: Stan Lee & Jack Kirby
Price: $ 3.99 US
Rating: 3 out of 5 stars
Websites: www.marvel.com, www.idwpublishing.com
Comments: A quiet dinner for Tony changes when things start to go wrong and then they start to go really wrong. The Black Widow and Black Panther do not fair to well dealing with Iron Man.
Captain Marvel, Captain America, and Thor stand ready to face the might of Madame Masque and the U-Foes. There is a brief battle lead by Thor. It is toned down, so not overly violent.
This comic is an all-audience one so it is meant for younger readers. Of course, all ages can enjoy it too. The art is nice and simple yet straight forward in showing off the characters. There is nothing too dynamic about it.
The amount of super-heroes and supervillains provides a wide variety for your enjoyment.
The issue ends on a cliffhanger with Iron Man in danger.
About Author