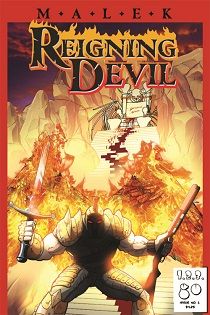 Title: Malek: Reigning Devil # 1
Publisher: 1.2.3. Go
Creator/Writer: Jeffrey Haas
Lineart: Juan Manuel Almiron
Colors: Chris McAuley
Editor/Letterer: Phoebe A. Xavier
Cover: Edwin Rwothomio
Price: $ 4.25 US
Rating: 3 out of 5 stars
Website: indyplanet.com/malek-reigning-devil-1
Comments: Malek is now the Ruler of Hell. He looks like a Roman Centurion.
Malek must be prepared to fight to keep Hell as his. He is also now readying to attack Heaven.
Ose is in his fortress with his army standing against Malek. Ose looks like a cross between Fu Man-Chu and a Bishop. Malek has one huge horrifying creature that he controls.
Malek's green flaming sword is colored amazingly. The different shades make it stand out.  Gabriel is illustrated with a sinister look and the way he acts suggests he has ulterior motivates.
Malek is the only character that we really get to know here. The rest are only shown briefly. It would be nice to know a bit more about what happened before this issue.
Malek in the battle scenes with Gluttony has them blending into the backgrounds so you can not see them clearly enough.
Malek is an angel on a mission and it is not for God. He wants Hell for himself and he might just get it.
About Author