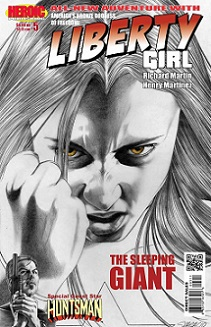 Title: Liberty Girl # 5
Publisher: Heroic Publishing
Story and Layout: Richard Martin
Artwork: Henry Martinez
Colors by: Nataljia Torretta and Francesca Ingrassia
Letters by: Dick O'Malley
Price: $ 4.99 US, $ 5.75 Can
Rating: 3 out of 5 stars
Website: www.heroicpublishing.com
Comments: First off we see a man who can explode at will and put himself back together.
Then we see the White Diamond a thief in a lovely costume.
Liberty Girl is a super-hero yet in this issue we see all the things that happen in between fighting villains. She is out to help others as best she can. The parents of a girl who admired her, Liberty Girl tries to comfort them. We see Liberty Girl is more than a super-hero she is human.
Liberty Girl's powers include an energy field in which she can contain things within. It does show her fortitude when she pushes this ability to her utmost.
A lot of the talk is too long-winded.
The Liberty Girl is a symbol for America and the people believe in her and love her which we are told but the story does not really show it. The story does not focus on her enough rather it focuses more on what is going on around her.
The art other than The Liberty Girl's costume does not show her off as a super-hero other than the last page where she is flying off.
About Author