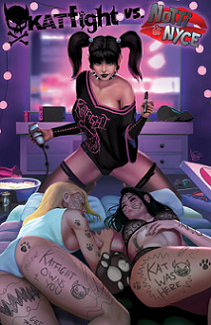 Title: Katfight vs Notti & Nyce
Publisher: Merc Publishing
Written by: Dolan
Edited by: Murphey & Shawn Hudachko
Katfight Created by: Jamie Tyndall & Shawn Hudachkin
Notti & Nyce Created by: Marat Mychaels
Pencil & Ink by: Emiliano Urdinola
Color by: Gabriel Rolan
Art Direction by: Lucas Urrutia, Stone Tower Studios
Letters and Effects by: Joel Rodriguez
Price: $ 9.99 US
Rating: 4 out of 5 stars
Website: mercpublishing.com
Comments: The Khan's Summer Home has some unexpected visitors. The Home is wonderfully illustrated with lots of detail. Notti & Nyce look cute in matching schoolgirl outfits. Katfight now she is dressed in black and very naughty looking. All three women act fast and sure as they infiltrate the building. Katfight is on a mission and nothing will get in her way.
Both Notti & Nyce and Katfight are here for the same thing but only one can have it. The ensuing fight is brutal as these three try to kill each other. Yes, it has its sexy side to as panty shots show up. These beautiful women though are out for blood. This is fun to watch a catfight with women who can take as good as they give.
Katfight does have a different type of power. It is very useful in a fight though. Notti and Nyce though have to depend on their fighting ability.
Deathrage and Miss Meow have small appearances. Miss Meow is the top dog and Deathrage well he adds a slight touch of humor.
The fight scenes alone make this comic worth picking up.
About Author