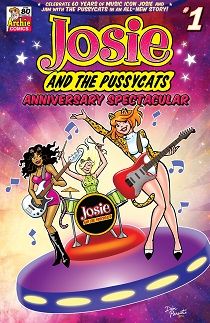 Title: Josie and the Pussycats Anniversary Spectacular # 1
Publisher: Archie Comics
Stories: Holly G!, Frank Doyle, Tom DeFalco
Pencils: Holly G!, Dan DeCarlo, Kennedy Bros.
Inks: Jim Amash, Rudy Lapick
Cover: Dan Parent with Rosario "Tito" Pena
Letters: Jack Morelli, Bill Yosida, Vincent DeCarlo
Colors: Glenn Whitmore
Price: $ 3.99 US
Rating: 4 out of 5 stars
Website: www.archircomics.com
Comments: "Rock Cats" The Pussycats are giving a concert in orbit. They are out of this world as they do so. They do end up in a little trouble yet help seems to find them. Their concert turns into a jam concert and things get rocking as they all Rock Out. The characters just pop off the page at you. The colors are vibrant. The poses are exciting and you can see the emotions.
"A Gym Dandy" Alex Cabbot does know how to make exercising easy. He has an expensive gym with top-of-the-line equipment and yet somehow he is not in tip-top shape. Josie and Pepper join him in the gym and we see why he is in the shape he is. The story is funny and the classic art style is lovely to see.
"Only the Strong Survive" Melody and Pepper go on a camp trip. Pepper is in charge yet Melody has a way of getting things done that is way different then Pepper wants. You knew it was going to work out that way though. Still knowing ahead of time it is still fun to see. Beautiful colors and classical-style art make this fun.
"The Ghostly Guardian" Josie, Melody, Valerie, Allan M, Alex and Alexandra are looking around a spooky mansion. Melody opens a chest which contains not what you might expect. This leads them on an adventure. This is an exciting danger-infused story and all the teens involved here you see are in danger. Maybe as well someone or something is watching them. A mystery that will remain a mystery. Alexandra's psychic senses come into play here. The art beautifully presents all these characters in loving detail.
This issue is a work of art from start to finish.
About Author