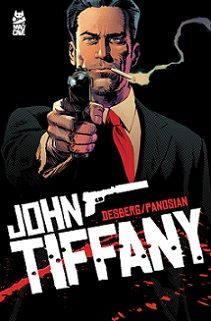 Title: John Tiffany (Advanced Reader Copy)
Publisher: Mad Cave Studios
Writer: Stephen Desberg
Writer/Artist/Cover: Dan Panosian
Letterer: Lucas Gattoni
Editor: James B. Emmett
Rating: 4 out of 5 stars
Website: www.madcavestudios.com
Comments: John Tiffany is a bounty hunter and a calm cool one at that. He performs well under pressure. John does have four friends he counts on. These friends are very different and each contributes something to his life. Now the story gets interesting as John finds himself the one being hunted. His friends all show they support him and help him. Now what happens if he loses some of that support?
John tries to figure out who set up this hunt for him. He has a huge bounty on his head. His life can get very exciting going after people who will kill you if they can and now those coming after him will do the same.
John is illustrated as a man of style. He has great taste in clothes and cars. John leads an exciting life of fast cars, gorgeous women, danger, and his personality is suave. He is a gentleman and a killer.
From how he acts you would not think of him as a killer. He is so cool and calm.
About Author