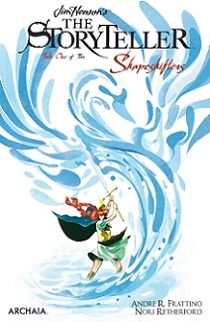 Title: Jim Henson's The Storyteller: Shapshifters # 1
Publisher: BOOM! Studios
Story by: Andre R. Frattino
Art by: Nori Retherford
Colors by: Kieran Quigley
Letters by: Jim Campbell
Cover by: Mike del Mundo
Variant Covers by: Mateus Manhanini, Mike del Mundo
Spot Illustration by: Sonny Lieu
Price: $ 4.99 US
Rating: 4 out of 5 stars
Website: www.boom-studios.com
Comments: Tuatha De Danann these people were a great race and yet one small change changes everything. Uncle Dain takes his nephews and niece out for a ride in the country and what he has in store for them is sinister.
Fionna does care for her brothers Aodh, Conn, and Fiachra. Their father is only concerned with him staying ruler and King.
The art looks amazing fitting into the story beautifully. The characters are illustrated to fit the period they live in.
The story unfolds delivering a tale of magic and love. Fionna is a Princess who loves her brothers and looks out for them. They used to argue a lot yet as they grow up together they realize being a family is the most important thing for them. Their father and uncle abandoned them as family. Their father was obsessed and their uncle was power-hungry. They weathered it all and grew stronger for it. This fairytale takes a while to get to it yet it does have a happy ending.
About Author