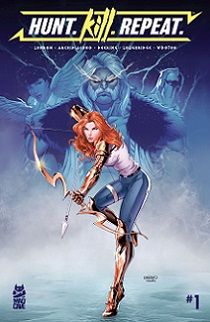 Title: Hunt. Kill. Repeat. # 1
Publisher: Mad Cave Studios
Writer: Mark London
Penciler: Francesco Archidiacono
Inker: Marc Deering
Colorist: Lee Loughridge
Cover A: Ryan Kincaid
Cover B: Marguerite Sauvage
Price: $ 4.99 US
Rating: 3 out of 5 stars
Website: madcavestudios.com/
Comments: The Gods lead by Zeus are not pleased that humanity has all but forgotten them. The Greek Gods decide to let humanity know they exist.
Artemis is leading a normal life. She is summoned by Zeus as are many other Gods and Goddesses. They have adopted to living on Earth with humans. They dress as humans now. Apollo, Aphodite, Athena and Hermes are all there. Zeus is just oozing power. Zeus is a tyrant he uses fear to control the other Gods and Goddesses. Only Artemis stands up to him. What Zeus does to Artemis is so wrong. Zeus is pure evil.
Ten years later Artemis is up and ready to fight back. Zeus took everything from her so now its her turn. Revenge is the number one thing on her mind. Who can blame her. As for her family well she is coming for them.
The art does present the Gods and Goddesses in a way that makes Zeus look like a common thug just with powers. The other Gods and Goddesses act as his henchmen. They do seem pathetic. Artemis is illustrated as a woman who is tough and when pushed pushes back.
The story has a few interesting twists to it. Overall we needed to see more happening. How are all these other Gods and Goddesses living on Earth and where? Are they all terrorizing humanity? Has humanity given up hope, other then a few?
Artemis the Hunter is going for Zeus's jugular.
About Author