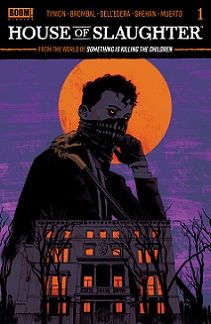 Title: House of Slaughter # 1
Publisher: BOOM! Studios
Story by: James Tynion IV & Tate Brombal
Script by: Tate Brombal
Illustrated by: Chris Shehan
Colored by: Miquel Muerto
Lettered by: Andworld Design
Designs & Development by: Werther Dell'Edera
Covers by: Chris Shehan with Colors by Miquel Muerto
Variant Covers by: Chris Shehan with Colors by Miquel Muerto, Alvard Martinez Bueno, Jenny Frison, Mike Del Mundo, Gabrielle Dell'Otto
House of Slaughter Created by: James Tynion IV & Werther Dell'Edera
Price: $ 3.99 US
Rating: 3 out of 5 stars
Comments: Aaron Shows he does have some smarts while training yet will they be enough to prevent him from dying during a real hunt.
We see Aaron in the future still alive and yes much more confident.
Aaron in the past does get a roommate Jace. Jace is tough and he knows he is. Both are different color masks though.
This school House of Slaughter is about learning to face monsters who can and will slaughter you. Aaron is the focus here as he starts out he lacks confidence. The more he matures the greater that gets. He does have the ability to become more.
The three girls in white masks are taunting with the intent to hurt Aaron. He does stand up to them showing he does have a toughness inside him.
Anyone at the House of Slaughter has to be tough for what they are expected to deal with. They deal with the things in the dark that will kill you.
About Author