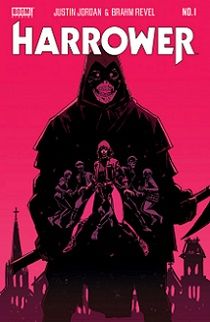 Title: Harrower # 1
Publisher: BOOM! Studios
Created by: Justin Jordan & Brahm Revel
Written by: Justin Jordan
Illustrated by: Brahm Revel
Lettered by: Pat Brosse
Cover by: Brahm Revel
Variant Covers by: Erica Henderson, Brahm Revel, Michael Walsh, Inhyuk, Tony Fleecs
Price: $ 4.99 US
Rating: 2 out of 5 stars
Website: www.boom-studios.com
Comments: A man some kind of police officer is strong yet you can feel he has some fear of what is coming for him. The Harrower when we see him is a creature of evil hatred.
A mark that we get to see being taught about in school is the Sinner's Mark. It summons the Harrower.
This town has a Harvest Gala every year and it is easy to see something is up about it.
A group of five friends are on their way to a party and they end up splitting up. There are surprises along the way. Reed the one teen is something else in his attitude.
This book is a horror one and is done like a horror movie. It needs more suspense and build-up. The Harrower is a frightening creature but just showing it is not enough.
None of the characters are gotten into at all except the small amount about Reed. The Harrower to not much is mentioned about him.
As the story goes on and we learn more this should become more interesting and better.
About Author