GREMLIN
The highly-anticipated GREMLIN premieres on VOD this July from Uncork'd Entertainment!
Emmy Award winning director, Ryan Bellgardt's (Army of Frankenstein) highly anticipated creature feature Gremlin hits VOD July 11 from Uncork'd Entertainment.
Godzilla meets The Ring in a thrilling, uniquely-scripted horror jaunt that boasts amazing computer-generated effects and from some of the best in the game.
Adam receives a mysterious box from a relative containing a creature that will kill everyone he cares about. The only way to be rid of the curse is to give the box to someone he loves. As the ominous timer on the box counts down to its end, he can only imagine the horrors that await. Does he give the box away to save his family, or unleash a monster upon humanity? He can't destroy it. He can't escape it. He can only give it to someone he loves…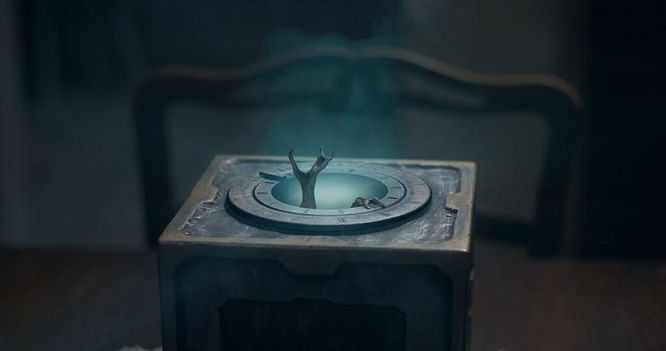 Adam Hampton, Kristy K. Boone, Catcher Stair, Katie Burgess, Mike Waugh, and Caleb Milby star in Gremlin, available everywhere on digital 7/11.
TRAILER

FILM INFO:
Studio: Uncork'd Entertainment
Director: Ryan Bellgardt
Cast
Credited cast:
Adam Hampton … Adam Thatcher
Kristy K. Boone … Julie Thatcher
Rest of cast listed alphabetically:
Geoff Barron … Police Officer
Christian Bellgardt … Henry Thatcher
Katie Burgess … Anna Thatcher
Aaron Bushong … Police Officer
Stacy Casaluci … Lisa Roberts
Tyler Cobb … Mad Man
Chris Crane … Police Chief
Steven Dawson … Police Officer
Mary Eaton … Police Officer
Adam Faulkner … Police Officer
Audra Faust … Unfortunate Soul
Dustin Faust … Grieving Man
Connie Franklin … Natalie Rose
Production Companies:
Boiling Point Media
Distributors:
Rafaella Films International (2017) (Philippines)
Star Entertainment (2017) (India)
Uncork'd Entertainment (2016) (USA)
Run Time: 1 hr, 28 min, 37 sec
Rating: 4 out of 5 stars
Comments: The preview of the creature at the beginning will have you on the edge of your seat. It will also have you checking around to make sure no such creature is near you.
Adam is given the mysterious box. Within that box, we soon find out lives a creature of evil deadly intent. Things do get very frightening whenever this thing emerges. It creates terror.
The creature effects are so well done you will believe this thing could actually be alive.
We watch as Adam fights to protect his family. Can Adam somehow defeat this thing.
The suspense does build as the creature stalks its prey. It gets you wondering how can this thing be stopped? Can it?
The ending does build up a lot of excitement and suspense and it gets you watching intently.
The creature steals the show as it is the main character and rightly so. It just keeps coming.
About Author