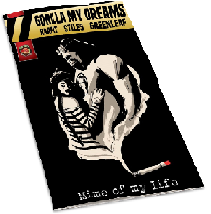 Title: Gorilla My Dreams: Mime of my Life
Publisher: Big Tim's Funny Books
Illustrators: Ahmed Raafat, Big Tim Stiles
Written by: Big Tim Stiles
Letters by: Ahmed Raafat
Cover by: Ahmed Raafat
Variant Cover by: Craig Bruyn
Back Cover by: Ahmed Raafat
Price: $ 9.99 US
Rating: 3 out of 5 stars
Website: bigtimsfunnybooks.bigcartel.com/
Comments:  "Mime of my Life" In Struggle-Town a mime has died trapped inside a real invisible box. So they call in the gorilla to solve the case. He gets the bizarre cases since he is a talking gorilla so he is bizarre himself. Some of the mimes here have a superpower.
The gorilla is called Knockaround-Guy yes really and he is a super-hero in a costume. This store does take place in one weird world. The ending here is a cliffhanger.
"Good Morning" Knockaround-Guy is a hero with a good heart. Here we see him out on the streets just thinking how lucky he is. Then a giant cyclops shows up. Knockaround-Guy is a hero defending the city while the other super-heroes are away.
"Saving Doctor Worm" Here we see Knockaround-Guy's first crime-fighting and a team-up.
The stories overall are low key. Some more excitement and action would have made this better. Plus some explanation as to how this gorilla came to be intelligent and talking would have been nice to see.
Knockaround-Guy is a hero for the urban city.
About Author