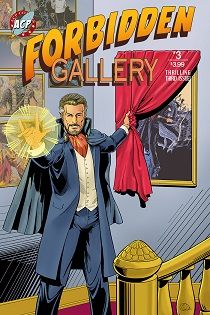 Title: Forbidden Gallery # 3
Publisher: ACP Comics
Cover & Frontis: Daerick Gross Sr
Back covers art Steven Butler and colors, William Mull
Writers: various
Artists: various
Price: $ 3.99 US
Rating: 4 out of 5 stars
Website: www.acpcomics.com
Comments: "China Bull" Story & letters William Mull, art Aileen Oracion and colors Omi Remalante.
Two guys fight over a girl. The art is plain. The expressions overdone. There is no real story here. No point to this.
"Scattercrow: Night of the Long Talons" Story William Mull, art Karl Comendador and colors & letters Daerick Gross Sr.
We see the birth of Scattercrow. Scattercrow needs more explanation as to what he is. The idea of a supernatural being dispensing justice is well known and the crows are not new. Still, the way it is presented is well enough done to keep it interesting. We do get to see a bit of terror build and the art creates a nice menacing atmosphere.
"The Vampire's Wand!" Story Nicola Cuti and art & letters Nik Poliwko.
A magic wand gets used as a weapon when its magic is gone. Yes even without magic a magic wand is a dangerous thing. The turn of the century setting is nicely illustrated.
"Turnabout" Story Roger McKenzie, art Dan Day, colors Daerick Gross Sr and letters William Mull.
Well getting your revenge can be sweet just be careful what you do does not come back at you. The art fits the story nicely.
"Necronauts" Story Ed DeVore, concept Von Grimm, pencils Portaveritas, inks Jeff Austin, letters William Mull and Pin-up colors Jose Villarrubia.
A nicely told story with great art. It is about leaving well enough alone and not going where you know you should not tread.
All the pin-up covers for each story are works of art. They are a feast for your eyes.
The back cover pin-up and page before it are so beautifully illustrated. They bring across a terror and horror rarely seen in comic book form.
About Author