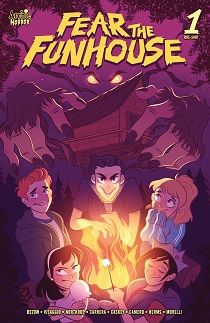 Title: Fear the Funhouse (One Shot)
Publisher: Archie Comics
Stories by: Micol Ostow, Michaell Northrop, Magdalene Visaggio
Line Art by: Lissette Carrera, Diana Camero, Ryan Caskey
Coloring by: Matt Herms
Lettering by: Jack Morelli
Main Cover: Lissette Carrera
Variant Cover: Sweeney Boo
Price: $ 3.99 US
Rating: 2 out of 5 stars
Website: www.archiecomics.com
Comments: "Snack Attack" The Archie characters are illustrated in a different style here if you did not know it was them you would not know it was them, well except for Jughead's hat. The gang is enjoying a night of camping out in the woods. Which leads to a scary story time around the campfire.
"Suburban Legend" Wilbur and Laurie are at Lover's Lane when a text comes from Linda. These three are a lot like Archie, Betty, and Ronnie. The story does involve a guy with a hook for a hand, the story though never does get scary. This story is over way too fast as not much at all happens in it.
"Snack Attack" As the campers ready for bed a sound is heard. The sounds keep getting closer and closer. This story is not scary at all and is quite lame.
"Whatever Happened to Dilton?" The story here is told in rhyme and told quite well.  Dilton becomes obsessed with a game. This story delivers suspense and builds up to scary moments and then lets us all down with an ending that makes no sense. The story does show Dilton in a way that lets you know he is smart yet he does still get become obsessed with the game. The art does illustrate him as you have come to expect in the classic style.
The end of this comic book makes no sense whatsoever.
About Author