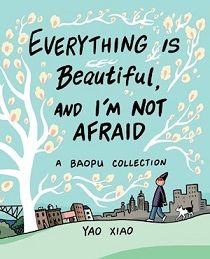 Title: Everything Is Beautiful, and I'm Not Afraid (GN)
Publisher: Andrews McMeel Publishing
Author/Illustrator: Yao Xiao
Price: $ 14.99 US, $ 19.99 Can
Rating: 4 out of 5 stars
Website: www.andrewsmcmeel.com
Comments:  Here we see a woman Yao Xiao coming to America from China. This book tells about her coming out as Queer she uses the label to describe herself.
She tries so hard to make her life work and to be accepted for who she is. Her family and friends from China find it hard to do. You will feel her emotions coming through in both the writing and art. She has suffered.
It is amazing to see how differently she is treated by the way she dresses.
Our star here does what she thinks is right for her even though she has many insecurities. She makes friends that support her when her family does not. She does what is best for herself. This shows a strong person.
This book takes you inside her mind as you live her life with her and feel her emotions. You will wish you could be as strong as her and handle things as well as she does.
About Author