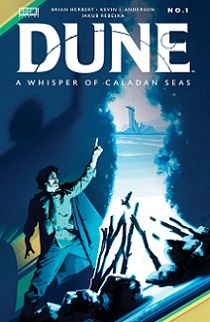 Title: Dune: A Whisper of Caladan Seas # 1
Publisher: BOOM! Studios
Written by: Brian Herbert & Kevin J. Anderson
Illustrated and Colored by: Jakub Rebelka
Lettered by: Ed Dukeshire
Cover by: Jeff Dekal
Variant Covers by: Jakub Rebelka, Elizabeth Torque, Christian Ward, Jeff Dekal, Mimit Malavia
Price: $ 3.99 US
Rating: 3 out of 5 stars
Website: www.boom-studios.com
Comments: Baron Vladimir Harkonnen's troops are shown waging a war against Duke Leto Atreides. The Baron now has control of the spice on Arrakis.
As you look at the battle on Arrakis the art does come across as blurry. The faces and emotions are hard to read or make out. The landscapes all blend together.
The Harkonnen's are the evil ones here they attack the Atreides by betrayal and by force. It is a long fight as the Atreides forces are stuck where they are.
Jongleurs are mentioned. They had the power to kill with nightmares. This aspect of the story is built up slowly so it creeps up on you unsuspecting. This Jongleurs here and now uses his power. the power of Imagination, the power to do whatever you need. That power does free the Attreides men from this battle. It lets them all find peace.
About Author