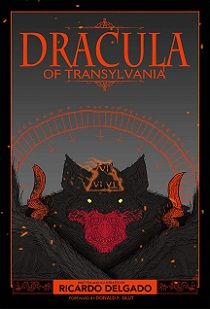 Title: Dracula of Transylvania (HC)
Publisher: Clover Press
Writer/Illustrated by: Ricardo Delgado
Based on the Original Bram Stoker Novel
Price: $ 45.00 US
Rating: 4 out of 5 stars
Website: www.cloverpress.us
Comments: A Roman Emperor is visited by Lilith. Here we witness the birth of a vampire. The scenes are described in a lot of detail too much at times. The evil of Lilith now is not left in doubt. She knows she has created a monster.
Emperor Constantinus and Lilith call forth the Devil. You do get an extremely detailed description of what the Devil looks like. Then from the Devil himself his son is born and Dracula walks the Earth. You will feel the evil within these pages.
Harker finds himself beginning his journey into Hell. He is at the Castle. Dracula is not the most excellent of hosts. He treats Jonathan Harker as beneath him, as a servant.
A proofreader was needed for this book. There are a lot of spelling errors.
Here we learn the names of Dracula's three concubines. We learn briefly about them as well. This is wonderful to see.
The pure evil of the beast Dracula becomes clear as you read this. This creature will and has done anything to achieve what he wants. There is nothing about Dracula that cares anything for others. He is the pure embodiment of evil.
Dracula has begun his journey to England. He brings his brides and creatures of the night. He is ready to conquer.
After the story, there is a collection of art that is frightening in its overtones of evil. It presents vampires as fearsome savage creatures.
This is a well-presented retelling of the Bram Stoker novel with changes made to it. Dracula is told as more of an animal, a beast from the pit than a human. He is vile, ruthless, he has no soul or heart and you see that brought across here.
About Author