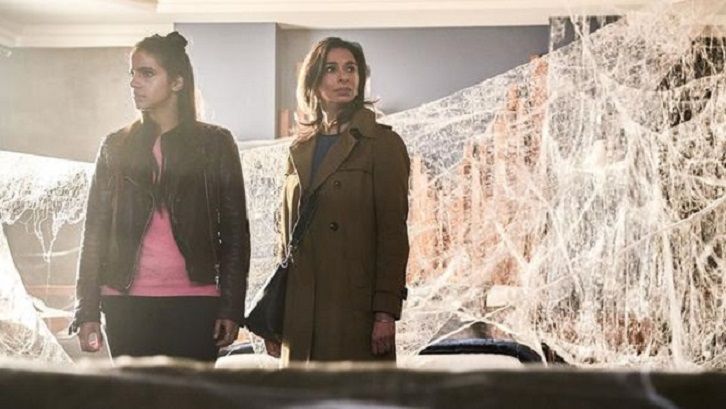 Doctor Who

Season 11, Episode 4 – Arachnids in the UK
Jodie Whittaker as the Doctor in Doctor Who.
Ryan (Tosin Cole), Yasmin (Mandip Gill) and Graham (Bradley Walsh) as the companions.
Producer: Alex Mercer
Director: Sallie Aprahamian
Written by: Chris Chibnall
Airs Sunday, Oct 28th from 8-9: 10 PM ET. SPOILERS EMBARGOED UNTIL 9:10 PM ET. CHRIS NOTH ("SEX AND THE CITY") GUEST STARS. "Something's happening with the spiders in this city." The Doctor, Yaz, Graham and Ryan find their way back to Yorkshire – and Yaz's family – only to find something is stirring amidst the eight-legged arachnid population of Sheffield. Guest starring Chris Noth and Shobna Gulati. Written by Chris Chibnall. Directed by Sallie Aprahamian.
Run Time: 49 min, 36 sec
Rating: 4 out of 5 stars
Website: Twitter.com/bbcDoctorWho
Comments: Very suspenseful opening and than we see a man who you will hate immediately.
This Dr. does seem needier As if she could survive without any companions but does not want to.
We get to see Yaz's family. Her mom is shown as a quiet person. Poor Graham misses his wife. The Dr. has a mystery and adventure going on in Yorkshire. The spiders are aggressive and growing.
The Dr. is in charge because she should be. She does not push it just happens. She has a plan and a good one. Of course, things never go according to plan. That one man from the start of the episode you will grow to hate him even more. Plus you will feel sorry for the spiders.
The companions make a choice they could stay home and live out their lives peacefully or, they could face danger and excitement at every turn not knowing what will come next. They pick the Dr. and what comes next only the next episode will tell.
About Author