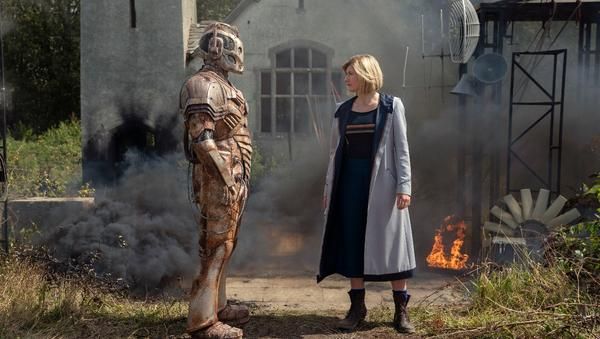 Doctor Who
Season 12, Episode 9 – Ascension of the Cybermen
Jodie Whittaker as the Doctor in Doctor Who.
Ryan (Tosin Cole), Yasmin (Mandip Gill) and Graham (Bradley Walsh) as the companions.
Producer: Adam Friedlander
Director: Jamie Magnus Stone
Written by: Chris Chibnall
Airs Sunday, 2/23/20 from 9:11 pm ET Guest starring: Julie Graham, Patrick O'Kane, Steve Toussaint and Ian McElhinney
Run Time: 49 min, 41 sec
Rating: 4 out of 5 stars
Website: twitter.com/bbcdoctorwho
Comments: A couple find and raise a boy. They do love him. He grows into a fine young man. Right from the start, it is easy to tell there is something special about him.
In the far future the Doctor and Ryan, Yasmin and Graham find the last humans. They get ready for an attack. Something is coming. The Cybermen are deadly. The Cybermen have the Doctor cornered and she does the unexpected of course.
There is always something going on. The Doctor and her companions are always on the move.
Graham and Yas along with a couple of other humans find a ship. This ship carries a danger.
When you see the Cybermen you will feel fear at these nonemotional beings. Well, except for one of them. The one with emotions he is evil. He is beyond your normal Cybermen.
Things pick up as the Cybermen are ready for all-out war. The Doctor has found something to help them escape the Cybermen or has she. Things change and fast and then even faster everything goes to hell. The surprises just keep coming.
This is Dr. Who as it was meant to be. You never know what is coming and just when you think you do something entirely different happens that you never saw coming and could not.
It is not just who but what is coming next?
About Author