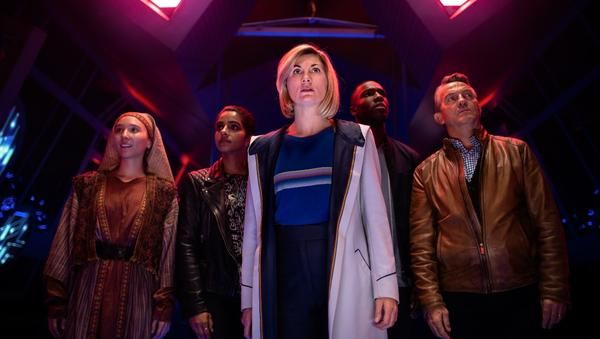 Doctor Who
Season 12, Episode 7 – Can You Hear Me?
Jodie Whittaker as the Doctor in Doctor Who.
Ryan (Tosin Cole), Yasmin (Mandip Gill) and Graham (Bradley Walsh) as the companions.
Producer: Adam Friedlander
Director: Emma Sullivan
Written by: Charlene James and Chris Chibnall
Airs Sunday, 2/9/20 from 9:10 pm ET Clare-Hope Ashitey, Ian Gelder, Buom Tihngang, Aruhan Galieva, Nasreen Hussain and Bhavnisha Parmar
Run Time: 49 min, 27 sec
Rating: 4 out of 5 stars
Website: twitter.com/bbcdoctorwho
Comments: A monster is on the attack and after the Doctor. In 1380 Syria the Doctor tries to solve the mystery. Meanwhile, her companions are visiting their homes.
Now a mysterious man is stalking the Doctor and her companions but for what reason? Zelin is his name and he is like a god. He has power. Yet he is the servant. The female is the deadliest of the species. The Doctor is used here.  So its two gods against one Doctor, I know who I'd put my money on. The Doctor faces these so-called gods to protect humanity. One Doctor and a few humans do beat two immortal gods. Humanity can face its nightmares and control them with a little help maybe.
This episode was going along being exciting and all like most are. Then after all the excitement dies down Yasmin is featured as we see a part of her past. The emotional response she brings out and the policewoman she had met three years ago make this episode special.
This episode focuses on her companions and their family that they leave behind to go on these fantastic out of this world and time adventures. They are living a life that most could only dream of. The Doctor is their guide through that life. She keeps them safe while everyone has the greatest adventure of their lives.
About Author