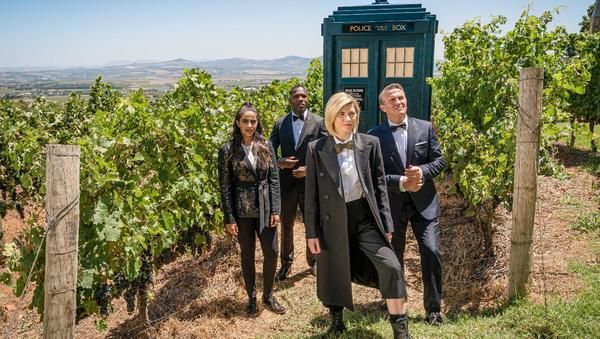 Doctor Who
Season 12, Episode 1 – Spyfall – Part One
Jodie Whittaker as the Doctor in Doctor Who.
Ryan (Tosin Cole), Yasmin (Mandip Gill) and Graham (Bradley Walsh) as the companions.
Producer: Adam Friedlander
Director: Jamie Magnus Stone
Written by: Chris Chibnall
Airs Wednesday, January 1 from 8 pm ET Guest starring: Stephen Fry and Sir Lenny Henry CBE
Run Time: 60 min
Rating: 5 out of 5 stars
Website: twitter.com/bbcdoctorwho
Comments: The Ivory Coast West Africa, Pacific, Moscow, and other places agents are being attacked. These are no ordinary attacks.
The Companions are recruited. Then the Dr. herself. What is going on? Then the excitement starts. MI6 and all security agencies need the Dr.'s help. The Dr is under attack by something. The Dr. has no idea what and she wants to know.
The show has a deadly serious threat and it still keeps its fun laughable side. The alien invaders up the anti they want it all and they are all but impossible to stop. Something weird is going on.
It's all about spies. The Dr. in her version of a tux is so cute. She would put Bond to shame. A motorcycle car chase is exciting and fun.
This is Dr. Who at its best.
Wow, you will never see this coming. Wow, twists and turns and unexpected surprises wow this show is amazing. Dr. Who is normally full of the unexpected but here you will be left stunned with your mouth on the floor shaking your head. You will never in a million years see this coming.
Dr. Who is one huge mystery within a mystery and thrills beyond this world. The Dr. will see you now.
About Author