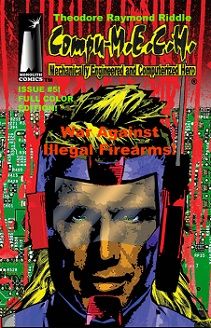 Title: Compu-M.E.C.H. # 5
Publisher: Monolith Comics
Writer/Artist/Letters/Colors: Theodore Raymond Riddle
Cover: Eli Jansen
Editor Monolith Comics: Richard Vasseur
Assistant Editor: Melissa Riddle
Price: $ 7.99 US
Rating: 4 out of 5 stars
Website: www.monolithcomics.com
Comments: "War Against Illegal Arms!" The colors are eye-popping here. They really do jump out at you. The coloring on Lesa Mace's hair is stunning.
Tommy is in a situation that affects not just him but others. Others threaten those close to him and with Dr. Green's support he acts.
M.E.C.H. is drawn in some hard-hitting action as he takes on the military. M.E.C.H. comes into this battle knowing what to do and how to win. It is great to see him so prepared.
A doctor works hard to cure his son and you get a sense of the love he has for him. Here we see the creation of a new villain the Death Shroud. He has a maniacal presence. When M.E.C.H. engages him it is different and more difficult fighting a man with superpowers. This battle ends differently than you would expect. Death Shroud is a villain that you will want to see again.
As M.E.C.H. teleports something different happens and he finds himself back in prehistory time. The animals are large and rough looking. M.E.C.H. is looking rough in how he is drawn as well. The Wooly Mammoths now these are so well drawn you need to see these. The story throws in an interesting twist just for fun.
Tommy and his using the M.E.C.H. unit are all about helping others. As you read about M.E.C.H. you will find your respect for this hero growing. He is all about caring about and helping others.
About Author