Title: Celebrating Snoopy (HC)
Publisher: Andrews McMeel Publishing
Author: Charles Schulz
Chapter Commentary Written by: Alexis E. Farjardo
Slipcase, Cover, and Chapter Openers Design by: Julie Phillips
Price: $ 75.00 US, $ 100.00 Can
Hardcover: 560 pages, 9 1/2 x 13 inches, slipcase
Rating: 5 out of 5 stars
Website: www.publishing.andrewsmcmeel.com
Comments: This is a beautiful deluxe hardcover collection with a slipcase that just seeing will put a smile on your face. Snoopy is such a wonderful and beloved character.
This is a huge book full of beautiful art and facts about Snoopy by Charles Schulz. Peanuts has been around for fifty years.
You will learn so much that you probably never knew before about Snoopy and Charles "Sparky" Schulz.
1950s There are so many strips of the Peanuts here. Each one is a delight to read and see. The strips in this chapter are all from the 1950s era. As you read these strips and see the incredible art you will be drawn into the world of Snoopy. He is one amazing dog. The adventures he has and the way they are described sometimes without even a word being spoken shows what a gift Charles Schulz had.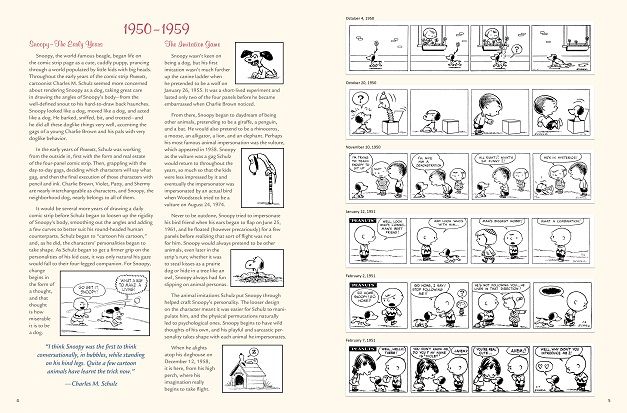 1960s In the 1960's the World War One Flying Ace was born. Snoopy's doghouse is way more than just a doghouse. It contains so much inside that there is no way it could contain but yet it does. Plus with Snoopy's imagination it can become a fighter plane or many other things as well.
Snoopy gets to interact with all the other Peanuts characters and he may be a dog but in so many ways he is just like a person. He thinks he is a person most times. Which does lead to some fun situations.
Snoopy has lots of adventures facing the Red Baron. Part of the charm of this is that you never do see the Red Baron.
1970s Snoopy started out on all fours having him start walking on two feet was a great move as it made him seem even more human. Snoopy gets his Happy Dance and he is a sight to see doing it. Snoopy has many personas such as Joe Cool and the World Famous Attorney. Woodstock starts showing up more in the 1970's. He is a fun little character that meshes so well with Snoopy.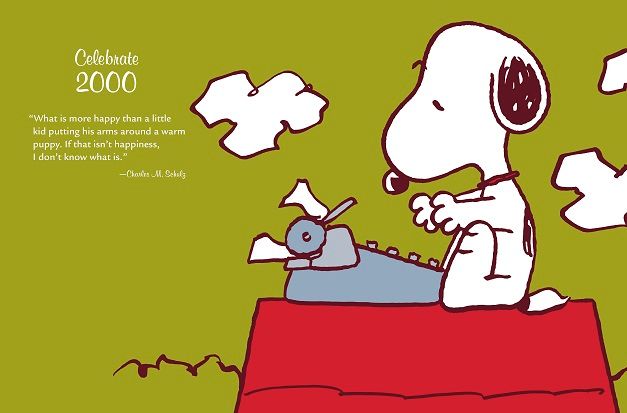 1980s Snoopy may very well be the most popular cartoon character in the world. He is so versatile. In the 80's Snoopy tries his paws at being an author and a surgeon. Both lead to fun for the reader. You will never get tired of seeing Snoopy as he is always up to something new and exciting.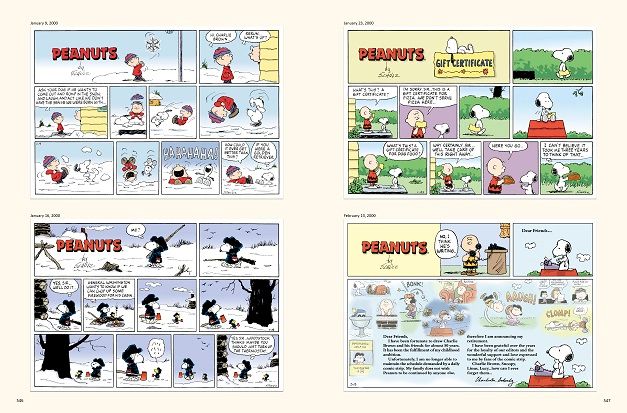 1990sIn the 90's we see two more military figures that Snoopy portrays. here to the relationship between Charlie Brown and Snoopy is cemented. Charlie Brown and Snoopy do love each other.
Snoopy does have good taste in drinks, there is nothing like a glass of frosty root beer. Of course a bag of cookies would go great with that.
2000 Charles Shultz is truly a legend. He and his characters will live forever and Snoopy is one of his best.
Within this book you will find thousands of Peanuts strips featuring Snoopy and you will have so much fun reading these.
You will do a happy dance!

About Author