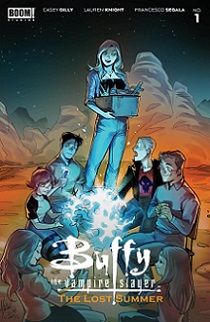 Title: Buffy Lost Summer # 1
Publisher: BOOM! Studios
Written by: Casey Gilly
Illustrated by: Lauren Knight
Ink Assists by: Lea Caballero
Colored by: Francesco Segala
Color Assist by: Gloria Martinelli
Lettered by: Ed Dukeshire
Main Cover by: Mirka Andolfo
Variant Covers by: Veronica Fish, Mirka Andolfo, Paulina Ganucheau, Veronica Fish
Price: $ 7.99 US
Rating: 2 out of 5 stars
Website: www.boom-studios.com
Comments: Spike turns down sex with Buffy for watching two old codgers on TV. Which leads to a road trip.
Buffy, Dawn, Anya, Willow, Spike and Giles are not overly enjoying the trip. Dawn now she just wants a nice family vacation. The gang now they spread out once they reach the antiques show to look around. They check out all the mystical things.
The art is boring. The expressions you can hardly see when you can they are simply drawn and lacking detail.
The trip revolves around two things making Dawn happy and finding a book that Spike knows about. So at the Night Market is where all the real supernatural things are.
We see how much Dawn is loved. Her family and friends would kill for her and die if necessary.
The gang do have a fun road trip and they do bond. There is no action and no killing of vampires which is a bit of a let down. The Casket Girls are interesting to learn about. They were mistreated in many ways.
Dawn well she does get her happy ending.
About Author