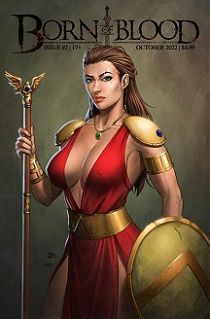 Title: Born of Blood # 2
Publisher: Merc Publishing
Written by: Dolan Waddick
Art By: Carlos Beccaria
Colors By: Sebastian Gonzalez
Letters By: Joel Rodriguez
Cover Art By: Ash Madi
Price: $ 4.99 US
Rating: 4 out of 5 stars
Website: mercpublishing.com/
Comments: Giaris, Mor and the King are ruthless warriors on the battlefield. These three are shown as killers in battle and blood does flow.
Full sexual situations are clearly shown. Topless nudity and nude butts. Yes, this is all part of Giaris's lessons to become a better Spartan and eventually Queen.
The King is kidnapped and Giaris his daughter is in a rage. She is shown acting without remorse and she acts fast.
The Klepthes attacked Giaris's people so Giaris and other women Spartans attack back. They have a strategy that involved lots of blood spilling.
Sparta moves on after the attacks and we meet Leonidas its greatest warrior.
We see here this Spartan royal court has drama in it that may cause some serious repercussions. Not all Spartans are as loyal as you might think.
Giaris is the central character as she should be. She is portrayed as a strong woman ready to take the crown. She is also shown as a loving daughter who would do anything to protect her family.
The fights are brutal when they engage in combat. There is also lots of stealthy fighting where women use more than swords and knives to get in close for the kill.
Giaris is a woman ready to be Queen and lead her people. Her work has just begun.
About Author