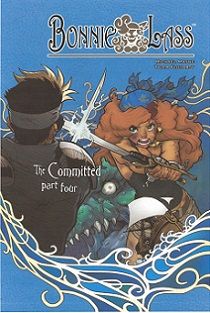 Title: Bonnie Lass: The Committed # 4
Publisher: Red 5 Comics
Story by: Michael Mayne & Tyler Fluharty
Script & Art by: Michael Mayne
Price: $ 3.95 US
Rating: 3 out of 5 stars
Website: www.red5comics.com
Comments: Bonnie and Cuthbert her dad have a nice long discussion about what is going on and finally we learn what the Eye can do. It may well mean the end of the world in the wrong hands or in any hands.
Bonnie is on a ship being attacked by a zombie leviathan. This thing is huge and ugly. It wants the Eye back. All help is breaking loose on the ship as the Leviathan attacks. Cuthbert is out to stop the Eye. Bonnie wants to steal it. Ebb Tide wants to use it.
Bonnie during all the chaos is still drawn as one cute girl. The art even has a slight manga style to it.
All hell is breaking loose. The one in the forefront though is Bonnie. This girl just keeps going and going. She craves adventure and she has it along with danger excitement and thrills. The way the story flows along it makes it seem, tamer, then you would expect. With pirates, villains and a sea monster, the action should be amped. Bonnie does add a nice flavor to the comic. As the girl pirate girl, she is someone you will be routing on.
About Author