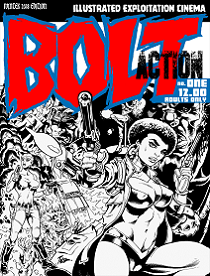 Title: Bolt Action # 1
Publisher: Rat House Comics
Writer: David Zuzelo
Artist: Tim Tyler
Price: $ 14.99 US
Rating: 4 out of 5 stars
Facebook:  Facebook.com/RAT-HOUSE-Comics
Comments: Rhonda the usher at the Bolt is a gorgeous woman. The setting around her leaves no doubt there is something weird about the Bolt Theatre. Attending a showing at the Bolt Theatre is something else. The set up here to the movies aka stories is done on a level you need to see to believe.
Rhonda between the movies makes an appearance and she adds so much to this book her character is perfectly done. Rhonda sets the mood for the stories and what happens between them.
This is a mature title due to violence, nudity ad sexual situations.
"The Satanicus Gate" Something comes through a gateway. This thing is horrific. Its first acts on Earth are to kill so you know it is evil. Then the story jumps around. This story ends partway through it as it turns out to be a preview not a full story aka movie. It is confusing.
"Hong Kong Hellcamp Women 2" Two almost naked women get into a Kung-Fu battle as they kick major butt.
Then the two women are taken to a tournament where all fight to the death. Lots of blood and guts are spilled. These two women have fun kicking butt and looking good. You will have fun reading this titillating adventure.
"Bullet for a Platinum Color Angel" One babe here is seeing plenty of shoots 'em up action as the bullets fly. Gabby Digglar is a one-woman killing machine with a nice butt. This story has some nice gory drawings here. This is one action-packed tale with a supernatural twist to it. You will not be disappointed.
"Plus Trailers Color by Deluxe" These made up posters and ads for upcoming movies are wonderful. The presentation is a horrific showcasing all these exploitative movies.
Horror, sexy and fun all in one that is what you get at the Bolt Theatre and you may just get out alive to if your lucky.
About Author