Blood Hunters: Rise of the Hybrids
An avenging aswang killer teams up with a hybrid and a team of demon hunters to attack the lair of the most powerful underworld warlords, only to find themselves in a twisted trap and a fight to the death.
Trailer:

Directed by:
Vincent Soberano
Writing Credits: 
Vincent Soberano
Cast:
Sarah Chang … Gabriella / Grandmother
Monsour Del Rosario … Monte
Vincent Soberano … Bolo / Tabak
Ian Ignacio … Max
Roxanne Barcelo … Kali
Mekael Turner … Gundra
Levi Ignacio … Ishida
Mayling Ng … Maya
Temujin Shirzada … Naga
Althea Vega … Maggie
Will Devaughn … Mario
Produced by:
Jessie V. Efenio … executive producer
Tonino Habana … executive producer
Oli Laperal Jr. … executive producer
Elaine Lozano … line producer
Robert Romer … executive producer
Run Time: 1 hr, 10 min
Rating: 3 out of 5 stars
Website: www.facebook.com/bloodhuntersthemovie/
Comments: Sarah Chang plays Gabriella Chen who is a Blood Hunter. Gabrielle is a gorgeous woman who the movie from the first time you see her is portrayed as a warrior who can handle herself and do it well. She can fight.
The movie fills you in on what is going on but while it does so it jumps back and forth in time to much. A lot of the scenes the lighting is too dark. Dark enough you can not see all the action going on.
The Aswang lead by two powerful Warlords is the evil that exists here in this world. A group of Blood Hunters is sent out to kill the two Warlords. They are well-armed and ready.
There are a lot of great fight scenes showing the actors do have some actual skill in battle.
Gabriella faces Maya they do have an intense but short battle. Things do get bloody.
Gabriella does have another hard fight on different levels.
Some more character building was needed in this film. If it had been longer it might have made it better so you could get to know the characters better.
Then the final fights begin the Warlords each face an opponent. These fights are action-filled and intense. Well, there is still another fight and these two men go head to head and all out.
The ending does leave you hanging somewhat and sets up for a part two.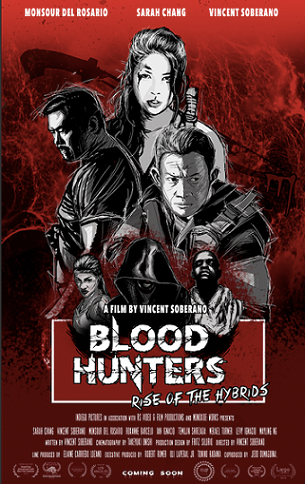 About Author