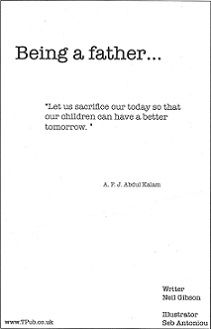 Title: Being A father…
Publisher: TPub
Writer: Neil Gibson
Illustrator: Seb Antoniou
Rating: 5 out of 5 stars
Website: www.tpub.co.uk
Comments: A father and daughter do have a special relationship and one that is full of love here. For this father Linda, his daughter was the only good thing he got out of his marriage. You can feel the emotions in these pages.
Turns out his ex-cares as much for their daughter as he does.
This is a powerful story with some unexpected twists to it. The mother will pull you in and have you hoping for the best for all involved.
The black and white art suits the story. The father John now is now one upstanding man who does right by his daughter. You can admire that about him.
This is a powerful story about human nature.
About Author