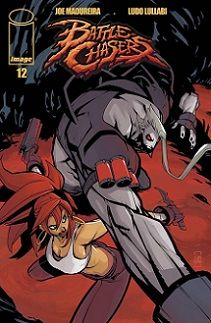 Title: Battle Chasers # 12
Publisher: Image Comics
Story: Joe Madureira
Art: Ludo Lullabi
Letters: Richard Starkings & Comicraft's Tyler Smith
Covers: Joe Madureira with Colors by Billy Garretson, Ludo Lullabi, Jonboy Meyers, Stanley 'Artgerm' Lau, Reiq, Andrew Cockroach, Derrick Chew
Battle Chasers Created by: Joe Madureira
Price: $ 3.99 US
Rating: 2 out of 5 stars
Website: www.imagecomics.com
Comments: There are a lot of great-looking characters being shown. An explanation of who they are is needed.
Wranneth is amazing in action. He is fast and his blade is sharp. He also has an attitude of arrogance.
Red Monika finds herself in a shoot-out. Her huge breasts are focused on a couple of times. Monika's attitude comes through right away she is full of herself yet rightly so. Garrison a love of hers yet he is different now.
The comic is slow moving and not a lot happens. The action is fast and over fast. The characters do stand around talking and unless you have been following this series from the start you will be lost on who everyone is. Red Monika needs to be shown off much better. She is hardly used at all. The comic does not focus on any one character or character. Lots of people are shown yet none are explained who they are or why we should care about them.
The warriors shown do fight and they are fierce. The use of blue and grey colors does work showing the two warriors as they battle. It is brief though.
About Author